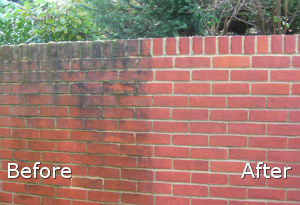 The best way to clean outdoor surfaces of your property is to use pressure washing. This is a method that sprays water under high pressure and thus removes all types of stains, mould, dirt, grime and mildew from outdoor areas. Some of the surfaces that are best cleaned with pressure washing are patios, driveways, roofs, exterior walls and others. Pressure washing is the most functional method to remove dirt from such surfaces and make them look like new. With the help of a pressure washer, it is easy to reduce the worn-out look of your wooden deck or bring back the original colour of your driveway. However, pressure washing is a service that wants professional skills and is dangerous to try and do it yourself. The method uses special equipment, which is compulsory in order to carry out the cleaning process.

Pressure Washing Service
Patio Cleaning

£3

/m2
Driveway Cleaning

£3

/m2
Timber Deck Cleaning

£3

/m2
The advantages we offer are:
Low prices
Professional work
Quick performance
Excellent results
Amazing cleaning experts
Our company is specialised in offering high-quality pressure washing services in London and its surrounding areas. We have many years of experience dealing within the cleaning business, which is how we have become one of the main and most reliable providers of cleaning services in England. To carry out the pressure washing process properly, first of all we are supplied with the latest professional equipment. We also work with an experienced cleaning staff, that consists of amazing experts. All of our employees are true professionals, who are motivated, devoted, trained, skilful and attentive. They have an eye for detail and can cope with every task ideally. To make sure we always achieve amazing results, we have developed ideal services of super high quality by using only the best tools and hiring only the most trustworthy professionals. In addition to the excellent work we do, we also offer low prices that are easy to afford and don't affect the budget.
We use detergents that are strictly natural and free of dangerous chemicals. We do our best to protect the environment as well as the health of our customers. We guarantee quality and always make sure that our clients are happy with the service we provide them with. Our pressure washing services are available seven days a week, including on weekends and holidays. You can contact us any time and we will arrive at a suitable for you time.