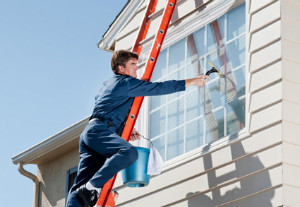 There are many things to clean around the house and this is why many homeowners often leave windows unattended. But windows can be seen from outside, so it is important that they are clean and shiny. Not only for the sake of beauty, but also for a healthier environment. However, this type of cleaning is laborious and time-consuming, not to mention boring. So, if you are reluctant to clean your windows, contact our agency.
Professional Window Cleaners
We offer professional windows cleaning, which is inexpensive and high quality at the same time. If you don't believe us, you can ask our past customers to confirm our words. We are not ordinary cleaners, we are professionals. This should be enough to convince you that we stand by our words and do our jobs the right way.
We always give our best because we want our clients to receive a high quality service and a friendly attitude. We provide our cleaners with regular training to make sure they are up to date with recent innovations, trends and news. This is how we get familiar with new cleaning products and machines.
What we can offer you:
Friendly staff
Decent prices
24 hours customer support
Eco-friendly cleaning
Windows are constantly exposed to weather conditions such as snow and rain that often leave lots of dirt. Apart from this, there may be mud, dirt, bug and bird droppings, etc. As a consequence, your windows may lose their shine and even look pretty unattractive. This is why you need to do something about it and calling our agency is the best choice.
| Window Cleaning | Internal | External |
| --- | --- | --- |
| 1 bedroom property | £20 | £40 |
| 2 bedroom property | £30 | £60 |
| 3 bedroom property | £40 | £80 |
| 4 bedroom property | £50 | £100 |
We are well prepared for this kind of job, from having the right equipment to sending the best technicians. Our cleaning system is innovative, uses no chemicals and brings excellent results. The products we use are specially formulated to clean glass and the best part is, they are biodegradable. We can complete the cleaning in a couple of hours depending on the number and size of windows to be cleaned. We provide window cleaning in St Johns Wood, Brixton, Forest Gate and Bethnal Green.
If you feel like choosing our company, it will be great for you to give us a call. We have a call centre where a few representatives work to make your service stress-free and more appealing. They will discuss with you everything you need to know. Don't be afraid to let us know what you want, give us a call.